From 23rd June to 4th September 2022, SHATEC alumnus and Peranakan Master Chef Philip Chia together with The Capitol Kempinski Hotel Singapore invite the public to enjoy a luxurious private dining showcase at The Private Room of 15 Stamford by Alvin Leung. You can expect heavenly Baba-licious flavours, served Tok Panjang*-style!
This is the premier event to launch the five-star hotel's new series of Guest Chef Takeovers, which revisits and celebrates the diverse cultures and heritages of Singapore through fine dining.
In a classic plated sit-down, the dining room was dressed with fresh flowers and Nyonya wares like the Kamcheng (porcelain-covered jar), while soulful Indonesian background music and service from the 15 Stamford and Kempinski oozed elegance.
We dived into a stunning 22-course Dinner menu as we watched Chef Philip and a roster of young chefs from the hotel do the heavy lifting of preparing the dishes live!
In keeping with traditions, Chef Philip features staples of Baba-Nyonya festivities such as Itek Tim, Nyonya Chap Chye and Babi Assam Goreng.
Shredded red king crab & egg salad with bright, sweet-sour Khong Th'ng (traditional peanut candy) dressing with a mildly nutty finish.
Buah Keluak Canape, with a generous slab of Buah Keluak paste served up caviar-like on thin sesame crackers which balances out the earthy intensity of the Indonesian black nuts.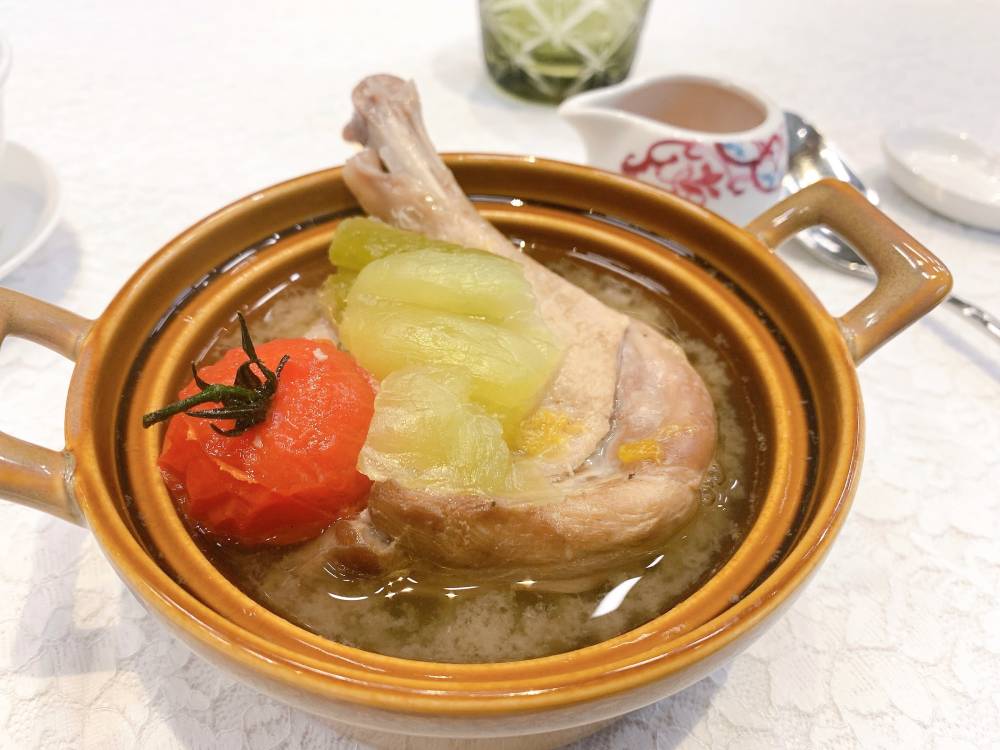 Itek Tim, a succulent duck in slow-cooked soup with preserved vegetables (Kiam Chye), cherry tomatoes, umeboshi plums. Add a dash of brandy as desired to round off any strong flavours of duck.
He also playfully amps up the indulgence factor on Peranakan classics using premium ingredients, like the Sambal Maine Lobster Belimbing, Angus Beef Short Rib Rendang and Red Garoupa Fillet Tempra.
And of course, to end the experience on an irresistible note, we enjoyed a selection of quintessentially Peranakan kueh kuehs made from scratch, like Kueh Ko Sui, Kueh Dadar and Kueh Apom Balik!
Colourful handcrafted kuehs, such as the chewy Kueh Ko Sui, crepe-like Kueh Dadar and Kueh Apom Balik, a unique offering in two flavours: banana and durian.
Durian Pengat, mousse-like and intensely flavoured which made us stop in our tracks, it is perfect for durian lovers!
After a belly-bursting feast from start to finish, we caught up with Chef Philip Chia (PC) on his thoughts about serving up the rich Peranakan flavours and the future of the cuisine.

***********
SHATEC: What are you most excited about for this collaboration?
PC: I'm excited about seeing how people may be garnering value from my menu—not from price alone but the authenticity of experiences as they are transported to the living dining halls of the Babas and Nyonyas with a Peranakan Tok Panjang.
SHATEC: For newcomers to heritage Peranakan flavours, what are iconic dishes to look out for in your menus?
PC: Ayam Buah Keluak is a must-have dish in a Tok Panjang! The Angus Beef Short Rib Rendang is not very common in homes, as I used a more premium choice of beef.
Angus Beef Short Rib Rendang, a luscious melting accompaniment with steamed rice.
For dinner, the Sambal Maine Lobster Belimbing is a twist on the rare dish Sambal Udang Belimbing, which uses prawns and sourish Belimbing fruit that is not always in season.
Mouthwatering Maine Lobster finished with a sourish, tangy Sambal Belimbing.
SHATEC: What Peranakan traditions do you hope will stand the test of time?
PC: Peranakan cuisine marries the different cultures and traditions of the Chinese and the local Malays. Our relationship to food is very personal, and I encourage the young to return to their roots, learn and continue their heritage onto the next generation. Otherwise, these are the dishes that will be lost in time to come.
SHATEC: What is your message to future chefs?
PC: Learn as much as you can while you are in training. As I tell all of my students, the fundamentals are important for any cuisine.
Understand the techniques and tastes in the classical form, before you develop your personal style and touches and pursue a culinary mastery that is beyond your imagination.
*Tok Panjang: "Tok" means Table in Hokkien and "Panjang" means Long in Malay. It is reminiscent of a Peranakan family meal where a grand, elaborate feast is served on a long communal table at The Private Room!
ABOUT CHEF PHILIP CHIA
SHATEC 1984 alumnus, Chef Philip was already toiling in the kitchens by the age of 6. At 17, he became the youngest finalist ever in the history of the prestigious Sime Darby's cooking competition judged by the late Mrs Lee Chin Koon (the late mother of Minister Mentor Lee Kuan Yew).
In his early years, he was successful in the hotel and travel industry, where he honed his taste in hospitality and palate in fine dining. The stalwart steadily carved a name for himself in the local Peranakan scene, with his half-century of culinary expertise, securing him a slew of top-notch collaborations.
Chef Philip has done stints at well-known hotels such as Fairmont Singapore, Grand Copthorne Waterfront, Hotel Ramada Chao Fah in Phuket, Thailand, and most notably, The Fullerton Bay Hotel where he has an annual showcase.