The COVID-19 pandemic has forced many to re-evaluate their lifestyle and eating habits. Masterclass: Innovations in Culinary Health focuses on building a strong foundation in general nutrition, and also teaching individuals the important skills and techniques to prepare well-balanced meals.
Cooks / Chefs, Executives, supervisors, managers, senior managers and owners in the F&B industry.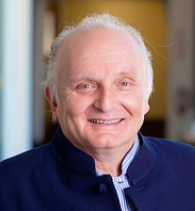 Jean-Marc Fullsack
Executive Chef, Hospitality Coordinator, Instructor
University of San Francisco
Click here for full profile
Marlene F. Janco
RDN, CWWPC
Global Wellness Innovator University of San Francisco
Click here for full profile
Methodology
Lectures
[Home-Based Learning (Synchronous E-Learning)]
* Home-Based Learning (Synchronous E-Learning) Requirements:
IMPORTANT
For Home-Based Learning, please note the following learner's requirements will apply to all participants in compliance with guidelines stipulated by SSG:
Participants must be equipped with a desktop computer/laptop, a functioning webcam and microphone as well as internet connectivity, in order to attend the online lesson (No sharing of desktop/laptop will be allowed).
For the entire duration when the lesson session is ongoing, the participant's face must be visible and his/her voice must be audible to the trainer.
Please note the following hardware requirements for Home-Based Learning:
PC or Laptop (Minimum: Windows Vista 7 and higher OR macOS X 10.6)
Supported web browser (Google Chrome)
A stable internet connection
A webcam either built-in in your laptop or external USB camera; the camera has to be turned on for the duration of the class
A microphone – built-in or USB plug-in
Assessment
At the end of the course, participants will be required to complete a short quiz.
Certificate
Upon successful completion of the programme, participants will receive a Certificate of Completion jointly awarded by SHATEC and University of San Francisco.
Global wellness, public health and environmental trends


Relationship between nutrition, inflammation, chronic health conditions, gut-microbiome, and immune system


Science behind taste and flavor


Health promoting culinary techniques that maximize flavor and enhance life-sustaining nutrients


Healthy menu design, marketing and communication strategies



New innovations/best practices for food safety COVID-19
| | |
| --- | --- |
| Full Course Fee incl. GST | S$ 1,284.00 |
| 1 ,2, 4 ,6Nett Course Fee Payable after SSG Grant, incl. GST (Singaporeans/PRs/Long Term Visit Pass Plus Holders ≥ 21 years old): | S$ 385.20 |
| 3, 6Nett Course Fee Payable after MES Grant, incl. GST (Singaporeans ≥ 40 years old) | S$ 145.20 |
| 5, 6Nett Course Fee Payable for SMEs, incl. GST | S$ 145.20 |
| 5Absentee Payroll | Absentee Payroll rate at S$ 4.50 per hour, capped at S$100,000 per enterprise per calendar year |
1Singaporeans and Singapore PRs, aged 21 and above, will be eligible for up to 70% SSG funding. Funding is subjected to SSG's prevailing corporate policies and final approval.
2Singaporeans may also utilize available funds within their Post-Secondary Education Account (PSEA) or SkillsFuture Credits (where applicable) to offset total net course fee payable. All Singaporeans aged 25 and above can use their $500 SkillsFuture Credit from the government to pay for a wide range of approved skills-related courses. Visit the SkillsFuture Credit website www.skillsfuture.sg/credit to choose from the courses available on the SkillsFuture Credit course directory.
3The SkillsFuture MES is for Singaporeans aged 40 years old and above.
4Training support will be extended to Long Term Visit Pass Plus (LTVP+) Holders with effect from 1 October 2021. The LTVP+ scheme applies to lawful foreign spouses of Singapore Citizens (SCs) with (i) at least one SC child or are expecting one from the marriage, or at least three years of marriage, and (ii) where the SC sponsor is able to support the family. LTVP+ holders will be identified with their green visit pass cards, with the word 'PLUS' on the back of the card.
5SME companies are required to log-in to Enterprise Portal for Jobs and Skills to update their SME status if they have not done so. All companies will be notified to log in to the portal to declare monthly salary and hours worked per week in order to receive Absentee Payroll.
6Companies and individuals are liable for the full course fee in the event that the SSG funding and subsidy are not approved.
7Class commencement is subjected to minimum class size met. Public holidays are excluded, where applicable
8Eligible companies can offset the additional out-of-pocket expenses with the SkillsFuture Enterprise Credit (SFEC). Please refer to https://www.enterprisejobskills.gov.sg/content/upgrade-skills/sfec.html for more information.
Payment Mode
The following payment modes are available:
SkillsFuture Credit

Bank Transfer

PayNow

Credit Card

Internet Banking

PSEA
SHATEC Institutes Pte Ltd (UEN: 198301550C) is an appointed CET Centre by SkillsFuture Singapore (SSG) for courses supported by SkillsFuture Credits (SFC) / funded by SSG. The funding support period for Innovations in Culinary Health (Synchronous e-learning) (TGS-2022011519) is 15 Feb 2022 to 02 Dec 2022.